Eastbridge Plans Unveiled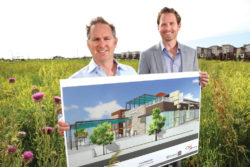 By: Courtney Drake-McDonough /  Development, Stapleton
As the saying goes, "Good things come to those who wait." And it's what the developers, leasing agents and tenants of the new Eastbridge Town Center in Stapleton plan to deliver, literally banking on their years of success bringing neighborhoods what they want and need.
After a decade-long wait, the Eastbridge Town Center is expected to start construction in early 2016, after the sale closes in November. The development will have two retail buildings adjoining a plaza on the west end and a King Soopers on the east end, at MLK and Havana. Plans for the King Soopers gas station remain as previously reported.
The grocery and the retail will be owned, built and operated by separate entities. What the projects share is a parking lot (divided by Geneva Court) and a completion schedule of fall 2016.